Philippine Dolphins &
Whale Watching
Whales Islands Philippines
Bohol Dolphin and Whale Watching
Bohol provide the best dolphin and whale watching experience. The spotters and local guides are the former hunters of dolphins, Bryde's whales, whale sharks and manta rays of Pamilacan Island. They abandoned the centuries-old hunting tradition and participate in the new alternative livelihood program.

Pamilacan Island
The small island of Pamilacan is nestled in the heart of the Bohol Sea, the Visayas Archipelagos in the Philippines. Its name is derived from the word pilak, which is a large hooked implement made and used by the islanders to capture manta rays, whale sharks and bryde's whale.

The Bohol Sea is said to be a breeding ground of these mysterious but beautiful creatures. The island in previous times, served as a watch station against the intrusion of pirates and enemies of the Spanish colony as evidenced by the 200-year-old Spanish fort on the northeast side of the island.

Today, 235 families live in the island. The people used to hunt dolphins, whales, whale sharks and manta rays but these animals are now fully protected by law in the Philippines.
Bohol Dolphins and Whale Watching Tour Packages
---
Travel Quotes:
On long haul flights I always drink loads and loads of water and eat light and healthy food. Lisa Snowdon

If you travel first class, you think first class and you are more likely to play first class. Ray Floyd
Breads and Pastries Philippines Cuisine
In a typical Filipino bakery, pandesal, monay and ensaymada are often sold. Pandesal comes from the Spanish pan de sal (literally, bread of salt), and is a ubiquitous breakfast fare, normally eaten with (and sometimes even dipped in) coffee.
More details at Breads and Pastries Philippines Cuisine
---
Like IslandsPhilippines.com/whales/ on Facebook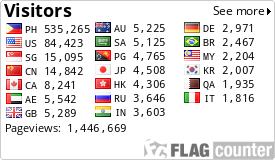 Website Visitors by Country
---
While we strive to present information as accurately as possible,
We are not responsible for any mistakes in information materials, written or any other kind.
All Rights Reserved. Islands Philippines © Copyright -
Managed by: Dotnet Business Online Inc.
Whales & Dolphins
Comprehensive 212 Page manual that continues to grow. Learn from EXPAT MANUAL today
---