Philippine Dolphins &
Whale Watching
Whales Islands Philippines
Batanes Dolphin and Whale Watching

The Babuyan Islands is an archipelago located in the Luzon Strait and north of Luzon island in the Philippines. It is separated from Luzon by the Babuyan Channel and from the Batanes Islands up north by the Balintang Channel. Whether whale watching or discovering a great beach destination is your goal, Babuyan Group of Island offers a lot for the active traveler. Babuyan Island adventure is all about dreaming a vacation after it was over.
Babuyan's biggest and most beloved visitor – the Humpback whales (megaptera novaeangliae) are arriving during summer for their annual winter holiday, marking the start of whale watching season in the islands. Humpback whales are migrating from Alaska each year to breed and calve in Babuyan's warm coastal waters, one of the Philippines marine sanctuary dedicated to whales and their habitat.
---
Travel Quotes:
He travels the fastest who travels alone. Rudyard Kipling

The traveler sees what he sees, the tourist sees what he has come to see. Gilbert K. Chesterton
Philippines Cuisine Characteristics
The traditional way of eating is with the hands, especially dry dishes such as inihaw or prito. The diner will take a bite of the main dish, then eat rice pressed together with his fingers.
This practice, known as kamayan, is rarely seen in urbanized areas. However, Filipinos tend to feel the spirit of kamayan when eating amidst nature during out of town trips, beach vacations, and town fiestas.
More details at Philippines Cuisine Characteristics
---
Like IslandsPhilippines.com/whales/ on Facebook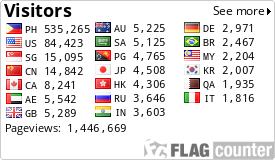 Website Visitors by Country
---
While we strive to present information as accurately as possible,
We are not responsible for any mistakes in information materials, written or any other kind.
All Rights Reserved. Islands Philippines © Copyright -
Managed by: Dotnet Business Online Inc.
Whales & Dolphins
Learn How A Fair and Balanced View Of Living In The Philippines. Not hype. Learn from EXPAT MANUAL today
---