Philippine Dolphins &
Whale Watching
Whales Islands Philippines
Batanes Dolphin and Whale Watching

The Babuyan Islands is an archipelago located in the Luzon Strait and north of Luzon island in the Philippines. It is separated from Luzon by the Babuyan Channel and from the Batanes Islands up north by the Balintang Channel. Whether whale watching or discovering a great beach destination is your goal, Babuyan Group of Island offers a lot for the active traveler. Babuyan Island adventure is all about dreaming a vacation after it was over.
Babuyan's biggest and most beloved visitor – the Humpback whales (megaptera novaeangliae) are arriving during summer for their annual winter holiday, marking the start of whale watching season in the islands. Humpback whales are migrating from Alaska each year to breed and calve in Babuyan's warm coastal waters, one of the Philippines marine sanctuary dedicated to whales and their habitat.
---
Travel Quotes:
Rome - the city of visible history, where the past of a whole hemisphere seems moving in funeral procession with strange ancestral images and trophies gathered from afar. George Eliot

To the lover of wilderness, Alaska is one of the most wonderful countries in the world. John Muir
Merienda Philippines Cuisine
Merienda is taken from the Spanish, and is a light meal or snack especially in the afternoon, similar to the concept of afternoon tea. If the meal is taken close to dinner, it is called merienda cena, and may be served instead of dinner.
More details at Merienda Philippines Cuisine
---
Like IslandsPhilippines.com/whales/ on Facebook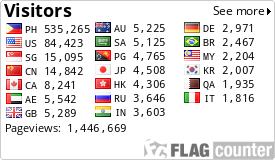 Website Visitors by Country
---
While we strive to present information as accurately as possible,
We are not responsible for any mistakes in information materials, written or any other kind.
All Rights Reserved. Islands Philippines © Copyright -
Managed by: Dotnet Business Online Inc.
Whales & Dolphins
How Much Does It Cost To Life In The Philippines? Learn from EXPAT MANUAL today
---