Philippine Dolphins &
Whale Watching
Whales Islands Philippines
Philippine Whales Commonly Seen
Large whale species are also frequently seen. Still, it is difficult to pinpoint the exact season for seeing whales. April to June offers more signting probably due to calm and clear waters.

Among smaller whales often seen are the pygmy killer whale, short-finned pilot whale and the melon headed whale. Huge whales, everybody's favorite, includes the Bryde's whale and the giant sperm whale.

Pygmy Killer Whale
The Pygmy Killer Whale is a small, rarely-seen cetacean of the oceanic dolphin family. It derives its common name from sharing some physical characteristics with the orca ("killer whale".) It is the smallest species that has "whale" in its common name. In fact, "killer" may be more apt in the case of the Pygmy Killer Whale than its larger cousin. When a number of Pygmy Killers were brought into captivity in Hawaii and South Africa they were extremely aggressive—even killing one another. A herd captured in Japan did not display such aggression.

Until the early 1950s the Pygmy Killer Whale was known only from two skulls kept at the British Museum. It was described by John Gray in 1874. In 1954, Japanese cetologist Munesato Yamada published accounts of a "rare porpoise" discovered in 1952 by whale hunters working from Honshū. He wrote that the individuals he examined had skulls matching those in the museum and that the body had features similar to the Killer Whale, and proposed the common name Lesser (or Pygmy) Killer Whale. Despite its name and features, the pygmy killer whale is not closely related to the orca.
The scientific species descriptor attenuata is Latin for 'tapering' and refers to the gradual narrowing from the head to the tail fin.

Short-Finned Pilot Whale
The Short-finned Pilot Whale is one of the two species of cetacean in the genus Globicephala. It is part of the oceanic dolphin family, though its behaviour is closer to that of the larger whales.

Short-finned Pilot Whales can be confused with their relatives the long-finned pilot whales, but there are various differences. As their names indicate, their flippers are shorter than those of the Long-finned Pilot Whale, with a gentler curve on the edge. They have fewer teeth than the Long-finned Pilot Whale, with 14 to 18 on each jaw. Short-finned pilot whales are black or dark grey with a grey or white cape. They have grey or almost white patches on their bellies and throats and a grey or white stripe which goes diagonally upwards from behind each eye.

Melon Headed Whale
The Melon-headed Whale is a cetacean of the oceanic dolphin family. It is closely related to the Pygmy Killer Whale and Pilot Whale, and collectively these dolphin species are known by the common name blackfish. The Melon-headed Whale is widespread throughout the world's tropical waters, although not often seen by humans on account of its preference for deep water.

Bryde's Whale
The Bryde is a massive plankton-eating baleen whale, that can reach up to 15m in length.

Sperm Whales
The sperm whale is one of the planet's largest predator can reach up to 18m. This favorite of whalers is sometimes seen alone but has also been seen in groups of 20 or moremammals. They may be seen sleeping on the surface, breaching, and pounding on the water with their great flukes.

Sperm Whales are not often hunted by local whalers due to their size but mainly because they are reputed to fight back. Sperm whales are the most commly sighted large whale in the Philippines.
---
Travel Quotes:
Like all great travellers, I have seen more than I remember, and remember more than I have seen. Benjamin Disraeli

I have wandered all my life, and I have also traveled; the difference between the two being this, that we wander for distraction, but we travel for fulfillment. Hilaire Belloc
Common dishes
As with most Asian countries, the staple food in the Philippines is rice. It is most often steamed and served during meals.
Leftover rice is often fried with garlic to make sinangag, which is usually served at breakfast together with a fried egg and cured meat or sausages.
More details at Common dishes
---
Like IslandsPhilippines.com/whales/ on Facebook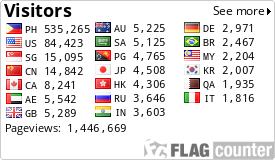 Website Visitors by Country
---
While we strive to present information as accurately as possible,
We are not responsible for any mistakes in information materials, written or any other kind.
All Rights Reserved. Islands Philippines © Copyright -
Managed by: Dotnet Business Online Inc.
Whales & Dolphins
How Long Can I Stay In the Philippines? Learn from EXPAT MANUAL today
---