Philippine Dolphins &
Whale Watching
Whales Islands Philippines
Dumaguete Dolphin and Whale Watching

Bais City is known for its proximity to a protected marine sanctuary in the Tañon Strait. Dense Mangrove forrests line Bais Bay. This is a natural feeding ground for cetaceans. Dolphins especially like the Mangrove forests growing into the bay to cruise for food. From the Capiñahan Wharf in the South Bay, several boats head out to the Bais Bay and into the Tañon Strait where the dolphins frolic in the water, and the whales emerge from the deep. It is fascinating to see these sea creatures up close. Other activities include swimming, sunbathing, snorkeling and scuba diving in the nearby reefs.
The adventure starts with a cruise along Bais Bay then out to Tañon Strait, the natural habitat of several whale and dolphin species. Among the kinds of dolphins you may encounter during the trip are, spotted dolphins, bottlenose dolphins and long snouted spinner dolphins. Melon headed whales, short finned pilot whales, pygmy sperm whales, pygmy killer whales and dwarf sperm whales are also found in the Tañon Strait.
Dolphin & whale watching is ideal between the months of May and September, when the waters are calmer and the winds are not too strong, thus allowing them to play in the waters and be seen by tourists.
The cruises are available from March to October, with the peak months being Philippine summer months of April and May.
---
Travel Quotes:
One travels more usefully when alone, because he reflects more. Thomas Jefferson

Just got back from a pleasure trip: I took my mother-in-law to the airport. Henny Youngman
Breakfast Philippines Cuisine
A traditional Filipino breakfast might include pandesal (small bread rolls), kesong puti (white cheese), champorado (chocolate rice porridge), sinangag (garlic fried rice), and meat—such as tapa, longganisa, tocino, karne norte (corned beef), or fish such as daing na bangus (salted and dried milkfish)—or itlog na pula (salted duck eggs). Coffee is also commonly served particularly kapeng barako, a variety of coffee produced in the mountains of Batangas noted for having a strong flavor.
More details at Breakfast Philippines Cuisine
---
Like IslandsPhilippines.com/whales/ on Facebook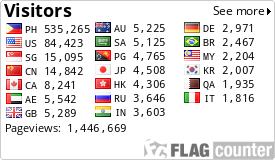 Website Visitors by Country
---
While we strive to present information as accurately as possible,
We are not responsible for any mistakes in information materials, written or any other kind.
All Rights Reserved. Islands Philippines © Copyright -
Managed by: Dotnet Business Online Inc.
Whales & Dolphins
How to Reduce The cost To Start Living In the Philippines? Learn from EXPAT MANUAL today
---