Philippine Dolphins &
Whale Watching
Whales Islands Philippines
Cebu Dolphin and Whale Watching


One of the most exhilarating experiences on an Islands Banca tour is the magnificent sight of a pod of dolphins at play. The most commonly seen dolphins in the waters of Cebu are the Risso's dolphin usually spotted in the northern shores of Sogod and Camotes.

Dolphin Watching Sites
* Sogod, Cebu, Philippines
* Camotes, Cebu, Philippines
These playful creatures can be seen almost all year round. But trips between march until June seem to have the highest sighting rate.

---
Travel Quotes:
When traveling with someone, take large does of patience and tolerance with your morning coffee. Helen Hayes

Travel becomes a strategy for accumulating photographs. Susan Sontag
Breads and Pastries Philippines Cuisine
In a typical Filipino bakery, pandesal, monay and ensaymada are often sold. Pandesal comes from the Spanish pan de sal (literally, bread of salt), and is a ubiquitous breakfast fare, normally eaten with (and sometimes even dipped in) coffee.
More details at Breads and Pastries Philippines Cuisine
---
Like www.IslandsPhilippines.com/whales/ on Facebook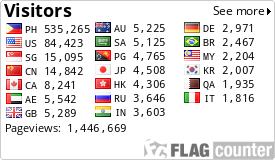 Website Visitors by Country
---
While we strive to present information as accurately as possible,
We are not responsible for any mistakes in information materials, written or any other kind.
All Rights Reserved. Islands Philippines © Copyright -
Managed by: Dotnet Business Online Inc.
Whales & Dolphins
Is The Philippines Safe? Learn from EXPAT MANUAL today
---