Philippine Dolphins &
Whale Watching
Whales Islands Philippines
Cebu Dolphin and Whale Watching


One of the most exhilarating experiences on an Islands Banca tour is the magnificent sight of a pod of dolphins at play. The most commonly seen dolphins in the waters of Cebu are the Risso's dolphin usually spotted in the northern shores of Sogod and Camotes.

Dolphin Watching Sites
* Sogod, Cebu, Philippines
* Camotes, Cebu, Philippines
These playful creatures can be seen almost all year round. But trips between march until June seem to have the highest sighting rate.

---
Travel Quotes:
We travel, some of us forever, to seek other states, other lives, other souls. Anais Nin

Travel, in the younger sort, is a part of education; in the elder, a part of experience. Francis Bacon
Southern Philippine Cuisine
In Mindanao, the southern part of Palawan island, Sulu and Tawi-Tawi, dishes are richly flavored with the spices common to Southeast Asia: turmeric, coriander, lemon grass, cumin, and chillies — ingredients not commonly used in the rest of Filipino cooking. Being free from Hispanicization, the cuisine of the indigenous Moro and Lumad peoples of Mindanao and the Sulu archipelago has much in common with the rich and spicy Malay cuisines of Malaysia and Brunei, as well as Indonesian and Thai cuisines.
More details at Southern Philippine Cuisine
---
Like IslandsPhilippines.com/whales/ on Facebook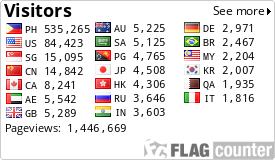 Website Visitors by Country
---
While we strive to present information as accurately as possible,
We are not responsible for any mistakes in information materials, written or any other kind.
All Rights Reserved. Islands Philippines © Copyright -
Managed by: Dotnet Business Online Inc.
Whales & Dolphins
Learn How A Fair and Balanced View Of Living In The Philippines. Not hype. Learn from EXPAT MANUAL today
---