Philippine Dolphins &
Whale Watching
Whales Islands Philippines
Cebu Dolphin and Whale Watching


One of the most exhilarating experiences on an Islands Banca tour is the magnificent sight of a pod of dolphins at play. The most commonly seen dolphins in the waters of Cebu are the Risso's dolphin usually spotted in the northern shores of Sogod and Camotes.

Dolphin Watching Sites
* Sogod, Cebu, Philippines
* Camotes, Cebu, Philippines
These playful creatures can be seen almost all year round. But trips between march until June seem to have the highest sighting rate.

---
Travel Quotes:
On long haul flights I always drink loads and loads of water and eat light and healthy food. Lisa Snowdon

If you travel first class, you think first class and you are more likely to play first class. Ray Floyd
Central Philippine Cuisine
Bicol is noted for its gastronomic appetite for the fiery or chili-hot dishes. Perhaps the most well-known Bicolano dish is the very spicy Bicol express. The region is also the well-known home of natong also known as laing or pinangat (a pork or fish stew in taro leaves).
More details at Central Philippine Cuisine
---
Like IslandsPhilippines.com/whales/ on Facebook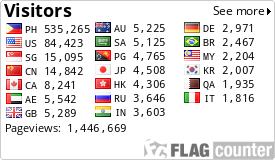 Website Visitors by Country
---
While we strive to present information as accurately as possible,
We are not responsible for any mistakes in information materials, written or any other kind.
All Rights Reserved. Islands Philippines © Copyright -
Managed by: Dotnet Business Online Inc.
Whales & Dolphins
Comprehensive 212 Page manual that continues to grow. Learn from EXPAT MANUAL today
---