Philippine Dolphins &
Whale Watching
Whales Islands Philippines
Philippine Whale Watching
In the Philippines, over thirty species of whales and dolphins can be observed around Central Visayas, Davao Gulf, the northern coast of the province-island Palawan, and in Batanes. The Visayas is particularly known area for dolphin sightings, and is home to one of the larger populations of the Fraser's Dolphin in the world.

Dolphin species in the Visayas are attracted to fish lures and to commercial fishing operations. In the northermost province of Batanes, at least 12 species of whales and dolphins has been sighted, making it the single location in the country with the highest cetacean diversity.

There seems to be no specific whale watching season in the Philippines, although the calmer waters of the summer season typically provides the best conditions. Some populations, like those of the Humpback Whales in Batanes, appear migratory. Other populations have yet to be studied.

Some former coastal whaling communities in the Philippines have also started to generate whale watching income.
---
Travel Quotes:
Traveling, you realize that differences are lost: each city takes to resembling all cities, places exchange their form, order, distances, a shapeless dust cloud invades the continents. Italo Calvino

To travel is to discover that everyone is wrong about other countries. Aldous Huxley
Breads and Pastries Philippines Cuisine
In a typical Filipino bakery, pandesal, monay and ensaymada are often sold. Pandesal comes from the Spanish pan de sal (literally, bread of salt), and is a ubiquitous breakfast fare, normally eaten with (and sometimes even dipped in) coffee.
More details at Breads and Pastries Philippines Cuisine
---
Like IslandsPhilippines.com/whales/ on Facebook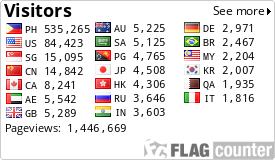 Website Visitors by Country
---
While we strive to present information as accurately as possible,
We are not responsible for any mistakes in information materials, written or any other kind.
All Rights Reserved. Islands Philippines © Copyright -
Managed by: Dotnet Business Online Inc.
Whales & Dolphins
How Long Will I Be Able To Stay In The Philippines? Learn from EXPAT MANUAL today
---