Philippine Dolphins &
Whale Watching
Whales Islands Philippines
Palawan Dolphin Watching
Watch the long-snouted Spinner Dolphins leap and play at the waters of Puerto Princesa Bay. They are locally known as "lumba-lumba". Experience a never-to-be-forgotten moments in life, an awesome dolphin watching destination in Puerto Princesa City.

The Spinner Dolphin is sometimes referred to as the Long-snouted Dolphin, particularly in older texts, to distinguish it from the similar Clymene Dolphin which is often called the Short-snouted Spinner Dolphin.

---
Travel Quotes:
One travels more usefully when alone, because he reflects more. Thomas Jefferson

Just got back from a pleasure trip: I took my mother-in-law to the airport. Henny Youngman
Central Philippine Cuisine
Bicol is noted for its gastronomic appetite for the fiery or chili-hot dishes. Perhaps the most well-known Bicolano dish is the very spicy Bicol express. The region is also the well-known home of natong also known as laing or pinangat (a pork or fish stew in taro leaves).
More details at Central Philippine Cuisine
---
Like IslandsPhilippines.com/whales/ on Facebook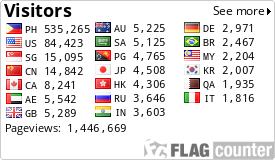 Website Visitors by Country
---
While we strive to present information as accurately as possible,
We are not responsible for any mistakes in information materials, written or any other kind.
All Rights Reserved. Islands Philippines © Copyright -
Managed by: Dotnet Business Online Inc.
Whales & Dolphins
How Long Can I Stay In the Philippines? Learn from EXPAT MANUAL today
---